Harry Potter and the Prisoner of Azkaban
DVD
Release Date: November 23, 2004

Running Time: 136 Minutes

Prices:
Widescreen Special Edition: $11.48
Full Screen Edition: $17.97
Pictures:
DVD:

- Front Cover

-Back Cover

- DVD discs

- Scene Info

- Info Packet
VCD: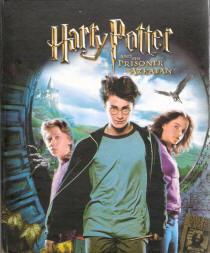 - Front Cover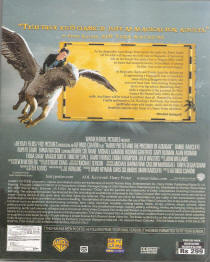 - Back Cover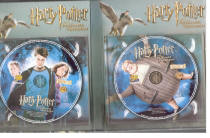 - Inlet

DVD Commercial:

Features:

Additional Scenes
"Creating the Vision" interview with J.K. Rowling and the filmmakers
Interviews with the cast lead by Johnny Vaughan and the Shrunken Head
Three challenge games
"Conjuring a Scene" making-of featurette
"Care of Magical Creatures" animal trainer featurette
Self-guided iPIX tours into Honeydukes and Professor Lupin's classroom
Choir Practice: sing-along with the Hogwarts choir
Hogwarts Portrait Gallery
Hogwarts Timeline
Electronic Arts game preview
DVD ROM Features: Wizard Trading Cards
Theatrical Trailers
Deleted Scenes:
Scene 1: Ernie misses a turn on the Knight Bus and veers around and around.
Scene 2: Hagrid gets annoyed by a little bird.
Scene 3: Features the trio with Ron and Hermione talking to Harry about their trip to Hogsmeade.
Scene 4: Seamus, Dean, Ron, and Neville discuss Sir Cadogon's new role as the password keeper.
Scene 5: Ron talks about Sirius Black's attack on him and McGongall confirms with Sir Cadogon.
We thank Mugglenet for this.
---
HPearth is an unofficial fan site and is not affiliated with J.K. Rowling, Scholastic Books, Bloomsbury Publishing or Warner Bros. Entertainment. All trademarks and copyrighted material are the property of their respective owners. Layout Made by Suman Barua., art Copyright of Mary Grandpre, Warner Bros. and Scholastic Plc. HPearth.com is a copyright of Harsh Sadhvani and Suman Barua. Any use of our site illegally is strictly prohibited.