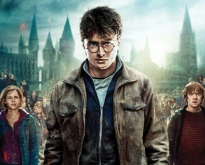 The
Harry Potter and the Deathly Hallows - Part 2
DVD and Blu-ray will be available in the DVD, Blu-ray, Blu-ray 3D, Blu-ray Triple Play and Digital download editions.
Also the
Harry Potter and the Deathly Hallows - Part 1
is set to be released in Blu-ray 3D. The 8-Film Blu-ray and DVD boxsets are set to be released.
Release Dates
: November 11th (US and India), December 2nd (UK)
You can go and read more about the DVD
here
.
You can also pre-order below:
Deathly Hallows - Part 2 DVD :
India
|
UK
|
US
Deathly Hallows - Part 2
Blu-ray 3D :
India
|
UK
Deathly Hallows - Part 2
Blu-ray :
India
|
UK
|
US
Deathly Hallows - Part 1 Blu-ray 3D :
India
|
UK
8-Film Collection (DVD) :
India
|
UK
|
US
8-Film Collection (Blu-ray)
:
India
|
UK
|
US