Happy Birthday Dan!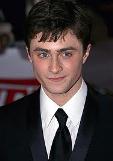 Twelve years ago he started of as a 10 Year old when he was cast for Harry Potter and grew through he fandom and love of us Harry Potter fans.
Today he turns 22 after the Harry Potter series has just ended and love him no less.
Happy Birthday Daniel Radcliffe!!
Categories: Movies, Daniel Radcliffe
Posted on 23 Jul 2011 by Harsh
Comments: