Watch Deathly Hallows part 2 WORLD PREMIERE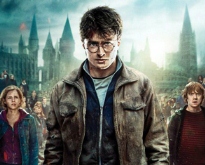 Just a Quick reminder,
Harry Potter and the Deathly hallows : Part 2 WORLD PREMIERE
will be held in London at Trafalgar square on 7th July 2011, and it will be streamed LIVE
here,
at 4pm British Summer Time, that is 8:30 PM Indian Time.
Make sure you watch it, as it is the LAST premiere in the Harry Potter franchise, and you will get to see all the stars and people who have shaped the movie magic for a decade.
And for the fans who are attending it in London, send in some flicks
Categories: Other Stuff, Movies, Movie 7 , Emma Watson, JK Rowling, Cast and Crew, Alan Rickman, Maggie Smith , Chris Columbus, Tom Felton, Mike Newell , David Yates, Warner Bros.
Posted on 06 Jul 2011 by Suman
Comments: