Harry Potter and the Philosopher's/Sorcerer's Stone
DVD

Release Date: May 28, 2002

Running Time: 152 Minutes

Pictures (US Edition)

-Special Edition Cover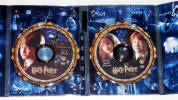 - Special Edition DVD Discs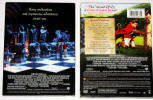 - Back Cover Art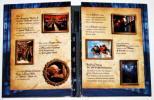 - Special Edition Opened

- Special Edition Full Inside
Image Source: Amazon
Pictures (UK Edition)

- Front Cover
Pictures (Indian Edition)

-Front Cover

- Back Cover

-Full Pack

- Full Inside
Prices:
Widescreen Special Edition: $13.88
Full Screen Edition: $13.99
VHS: $22.49
Features:

Additional Scenes
360 Degree Self-guided tour of Hogwarts
New interviews with director Chris Columbus and producer David Heyman
Learn how to play Quidditch
Meet the ghosts of Hogwarts
Cast a spell over a scene in 8 languages
Mix potions, perform transfigurations, sneak past Fluffy, explore Diagon Alley, have a wand choose you, catch a snitch and much, much more
Theatrical trailers
DVD-ROM PC Features: Collect Wizard trading cards, Be Sorted by the Sorting Hat, Download screensaver and Remembrall, Receive owl e-mails, Link to the web

Deleted Scenes:
Scene 1 (:54) features the Dursleys lavishing attention on their nasty little son while promising to send Harry to a grotty state school in a hand-me-down uniform
Scene 2 (:37) is an extension of the invitation-delivery scene at the Dursley household — with Mrs. Dursley finding messages in her eggs and owls outside her kitchen window
Scene 3 (:37) features Hagrid and Harry on the London Underground, talking about school supplies, with Hagrid wishing aloud that he could own a dragon as a pet
Scene 4 (:18) is a needless bit of business among our three heroes in the hallway, just after their encounter with the troll in the ladies' room
Scene 5 (1:00) has Ron (in his dorky Christmas sweater) warning Harry (in his dorky Christmas sweater) about the dangers of the Mirror of Erised
Scene 6 (1:56) is an exposition-heavy bit in the Great Hall — with Harry, Hermione and Ron talking about their upcoming exams, Longbottom hopping in with his legs locked together (thanks to a curse by Malfoy), a bit of bickering with Finnigan, and our heroes drawing a connection between Dumbledore and Nicholas Flamel before dashing off.
Scene 7 (3:27) is probably the best of the bunch — an extended cut of the bit where Professor Snape first tangles with Harry Potter in his classroom. It's easy to see why they trimmed this scene, however: Potter gets suddenly and unpleasantly insubordinate as he tells Snape to stop picking on him.
---
HPearth is an unofficial fan site and is not affiliated with J.K. Rowling, Scholastic Books, Bloomsbury Publishing or Warner Bros. Entertainment. All trademarks and copyrighted material are the property of their respective owners. Layout Made by Suman Barua., art Copyright of Mary Grandpre, Warner Bros. and Scholastic Plc. HPearth.com is a copyright of Harsh Sadhvani and Suman Barua. Any use of our site illegally is strictly prohibited.