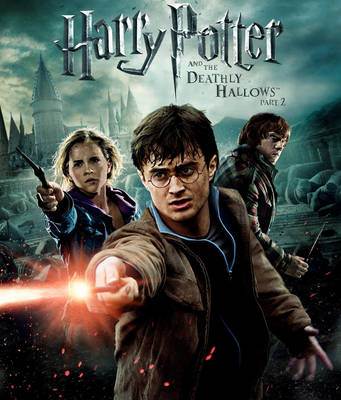 Harry Potter and the Deathly Hallows : Part 2- DVD/Blu-Ray
Deathly Hallows - Part 2 DVD : India | UK| US
Deathly Hallows - Part 2 Blu-ray 3D : India | UK
Deathly Hallows - Part 2 Blu-ray : India | UK| US
Deathly Hallows - Part 1 Blu-ray 3D : India | UK
8-Film Collection (DVD) : India | UK| US
8-Film Collection (Blu-ray) : India | UK| US
Blu-ray Exclusives
Maximum Movie Mode hosted by Matthew Long (Neville Longbottom) and other cast members (80 minutes) - As the epic showdown between Harry Potter and Lord Voldemort approaches, don't miss a single detail as the forces of Good and Evil clash one final time throughout the grounds of Hogwarts.
A Conversation with JK Rowling and Daniel Radcliffe - Join JK Rowling and Daniel Radcliffe for an exclusive conversation about bringing the character of Harry Potter to life, the last decade of films and how their lives have changed by the fame that they've both experienced.
The Goblins of Gringotts - Hosted by Warwick Davis, you'll see the entire process of becoming a goblin in a Harry Potter film, from auditions and casting to makeup and prosthetic tests as well as filming the final scenes.
When Harry Left Hogwarts - BAFTA award-winning filmmaker Morgan Matthews has been given unprecedented access to the creative decision-making processes that have been kept as a closely guarded secret - until now. Hear the personal stories of the faces we know, and those we don't, as we come to the end of one of the most successful eras in cinema history.
WB Studio Tour London - The Making of Harry Potter
Deleted Scenes
For PS3 Users:
Game demo of LEGO Harry PotterTM: Years 5-7 for PS3
DVD Exclusives
The Goblins of Gringotts - Hosted by Warwick Davis, you'll see the entire process of becoming a goblin in a Harry Potter film, from auditions and casting to makeup and prosthetic tests as well as filming the final scenes.
The Women of Harry Potter - A look at the remarkable women in Harry Potter's life and the critical role they play in the films.
When Harry Left Hogwarts - BAFTA award-winning filmmaker Morgan Matthews has been given unprecedented access to the creative decision-making processes that have been kept as a closely guarded secret - until now. Hear the personal stories of the faces we know, and those we don't, as we come to the end of one of the most successful eras in cinema history.
WB Studio Tour London - The Making of Harry Potter
Deleted Scenes
3-Disc Blu-ray Combo Pack Features
Maximum Movie Mode: Blowing up Hogwarts
A conversation with J.K. Rowling and Daniel Radcliffe:
Watch clips: Casting of Dan Radcliffe and Character Discussion
The Goblins of Gringotts
The Women of 'Harry Potter'
Additional Scenes
Warner Brothers: Studio Tour London
Pottermore Preview
The Complete 8-Film Collection
Harry Potter and the Philosopher's/Sorcerer's Stone
Capturing the Stone: A Conversation with the Filmmakers
Around the World Multilanguage Clip
Character Clips
Lessons in Quidditch and a Tour of Hagrid's Hut
Harry Potter and the Chamber of Secrets
Additional Scenes
Conversation with J.K. Rowling and screenwriter Steve Kloves
Dumbledore's Office: Building a Scene
Visit Lockhart's Classroom
Interviews with Students and Professors
Harry Potter and the Prisoner of Azkaban
Additional Scenes
Creating a Scene: With the director, author and others
Conjuring a Scene: On-set craftspeople wizardry
Shrunken Head Interviews
Choir Practice
Care of Magical Creatures
Harry Potter and the Goblet of Fire
Additional Scenes
Cast and Crew Interviews
Preparing for the Yule Ball
Triwizard Tournament of Challenges (Harry vs. the Horntail, In Too Deep and The Maze)
Harry Potter and the Order of the Phoenix
Additional Scenes
Focus Points: Featurettes and Production Diaries
Trailing Tonks: Personal on-Set Tour
Harry Potter: The Magic of Editing
Harry Potter and the Half-Blood Prince
Maximum Movie Mode: Interviews, Focus Points and Scene Comparisons
Harry Potter and the Deathly Hallows - Part 1
Maximum Movie Mode: Interactive Journey
Harry Potter and the Deathly Hallows - Part 2
Maximum Movie Mode: Blowing up Hogwarts
US
Blu-Ray
DVD
8-Disc Collectors Edition- UK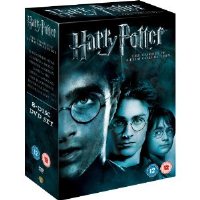 8-Disc Collectors Edition- US
Novemeber 11th 2011(India and USA) , December 2nd 2011 (UK and 3D Blu-ray disc in US)
---
HPearth is an unofficial fan site and is not affiliated with J.K. Rowling, Scholastic Books, Bloomsbury Publishing or Warner Bros. Entertainment. All trademarks and copyrighted material are the property of their respective owners. Layout Made by Suman Barua., art Copyright of Mary Grandpre, Warner Bros. and Scholastic Plc. HPearth.com is a copyright of Harsh Sadhvani and Suman Barua. Any use of our site illegally is strictly prohibited.